Apollo Plastics Chooses Jimani For Fiber Laser Marking Systems
Apollo Plastics manufactures back lit buttons and displays for the automotive industry. They use fiber laser markers to burn away a top coat of dark paint to expose a layer of light colored paint which, when back lit, glows for easy identification. Most of the instrument buttons and knobs in your car use this type of technology.
Apollo Plastics owns several fiber laser markers, both CW and Q switched systems and was having trouble getting support and applications help from their vendor. Turns out thier fiber laser system supplier was better at marketing and talking a good game than at post-sale support.
American Laserware, developer of Prolase laser marking software, gave Apollo a recommendation to call Jimani because Jimani is one of the largest laser marker integrators using Prolase. Apollo wanted to keep using Prolase because they wanted to keep their marking software the same on any new equipment that they bought.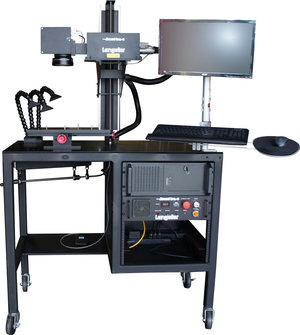 They were looking for a CW laser but Jimani's standard Langolier fiber laser marking system is a Q switched laser. Jimani attempted to mark some samples for them with the q switched laser but Apollo Plastics told Jimani that they got better results with a CW laser. Apollo Plastics really liked the overall Langolier concept so Jimani agreed to build a system with a CW fiber laser. Jimani made all of the necessary modifications to house and control the laser.
During the acceptance testing Jimani showed them a unique approach to doing graphical files. 'Apollo's marking is mainly graphical images and they had been struggling with them. Jimani's graphics techniques have played a part in reducing their cycle times.
Craig Doescher, Process Engineer at Apollo Plastics Corporation in Chicago, IL has this to say about working with Jimani Inc.
"After being somewhat left out in the cold by our previous laser marking system supplier, Apollo Plastics was searching for a new supplier to provide our 8th laser, and Jimani Inc's name came up. From the very beginning, Jim was helpful and accommodating.
We needed a CW laser, and though the Langolier fiber laser marking system does not use a CW laser, Jim was able to adjust the system for us. He offered us more favorable terms and a better price than any other marking system integrator around. Then, when I had the pleasure of visiting his facility before our unit was shipped, we were able to spend some time going over all aspects of the laser etching process.
He gave us many new ideas, and in fact, using some of his settings on our older lasers resulted in a reduction of cycle time by as much as 50%. Installation itself went smoothly, only requiring a few cables to be hooked up. Despite having no problems, Jim has continued to make himself and his company available to assist us in any way possible.
I speak for everyone at Apollo Plastics when I say I look forward to continuing our business partnership."