CO2 Laser Engraving and Cutting Organic Materials
Industry: Ad Specialty
Mark Type: Surface laser etch and material cutting
Material Type: Spent Grain
Mark Content: logo and text
Laser: 50 Watt CO2 Laser Engraving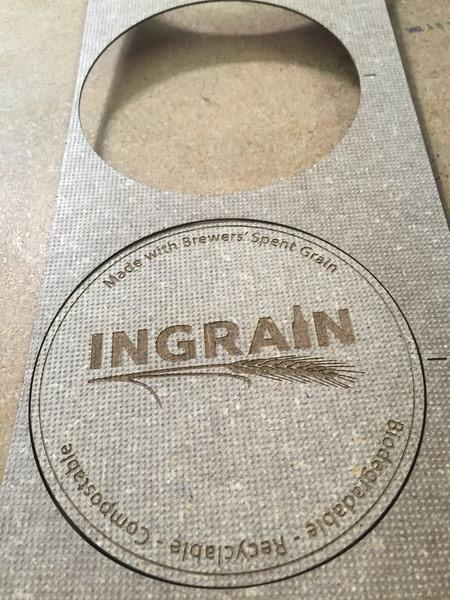 The photo shows a coaster that Jimani marked on and cut out of a sheet of material that was made from the spent grain of a beer brewery. This was part of a recycling project by graduate students at a local university. They developed a process by which they could make sheets of material using the spent grain from the beer brewing process. The recycled grain was processed to make sheets of material that had a similar consistency to very thick cardboard. We used a CO2 laser marking system to mark a logo on the coasters and then a different set of laser parameters in the same operation to cut the coaster out of the sheet of material.
CO2 Laser Marker: The Langolier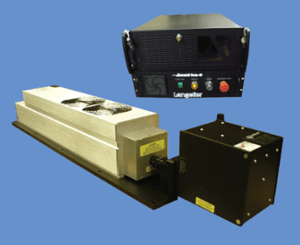 The ongoing costs to operate and maintain the Langolier CO2 laser marker are very low since there are no consumables and the laser has a long service life.
The CO2 laser marking systems from Jimani are ideal for marking:
glass
wood
paint removal
plastics
leather
organic materials
Laser etching, laser engraving effects, and cutting are strengths of the CO2 system.
Components of the Langolier CO2 Laser Marker include:
Universal CO2 laser source (20-50 watt) with integrated diode guide laser
Scanlab hurrySCAN High Speed Scanheads
Scanlab RTC-5 Interface and I/O Boards
Network ready Industrial PC
Beam Expander
Langolier Laser Controller
10,600 nm optics
The Langolier CO2 laser marker is compatible with the standard Jimani work stations as well as available for custom integration both into you production environment and into a custom enclosure.
Contact us for all of your CO2 laser marking systems needs.
{{cta('2f75626a-834d-4ee2-bc53-c149e3a32842')}}