Customer Service and Fiber Laser Systems
MacKay Manufacutring, located in Spokane, WA, uses fiber laser systems to mark medical instruments, implants, and other manufactured components with text, serial numbers, and logos. Fiber lasers are ideal for marking the types of materials MacKay handles including stainless steel, brass, and titanium.
MacKay Manufacturing needed to expand capacity and purchased two Langolier fiber laser marking systems from Jimani. The only problem was that the systems had a strange noise coming from the Z axis mechanism.
As anyone that works with equipment knows, things happen, parts break, systems fail. They key is in the OEM's response.
Does the manufacturer care enough to make all issues right with their equipment?
Will they own the issues until they are fixed?
Are they responsive and timely when problems occur?
Will the OEM stand behind their equipment?
Any capital equipment buyer knows that there should only be one answer to each of those questions.
Preston Harper, Material Finishing Supervisor at MacKay Manufacturing, states "Jimani went over and above to solve the Z axis problem. They responded immediately and made a trip to our facility at their expense. While troubleshooting the issue Jimani made sure we kept up with production. Jimani then decided to re-design and re-build the Z axis mechanism to eliminate the noise issue and ultimately make it into a better component. They then returned to MacKay and re-built the systems with the new design, all at their expense. We could not be happier with Jimani and their commitment to their fiber laser systems and, more importantly, to us as the customer by making sure we are getting the maximum value from their equipment. When we have programming questions Jimani is always available and makes sure we get the answers we need to do the complex marking we require. We could not ask for a better partner".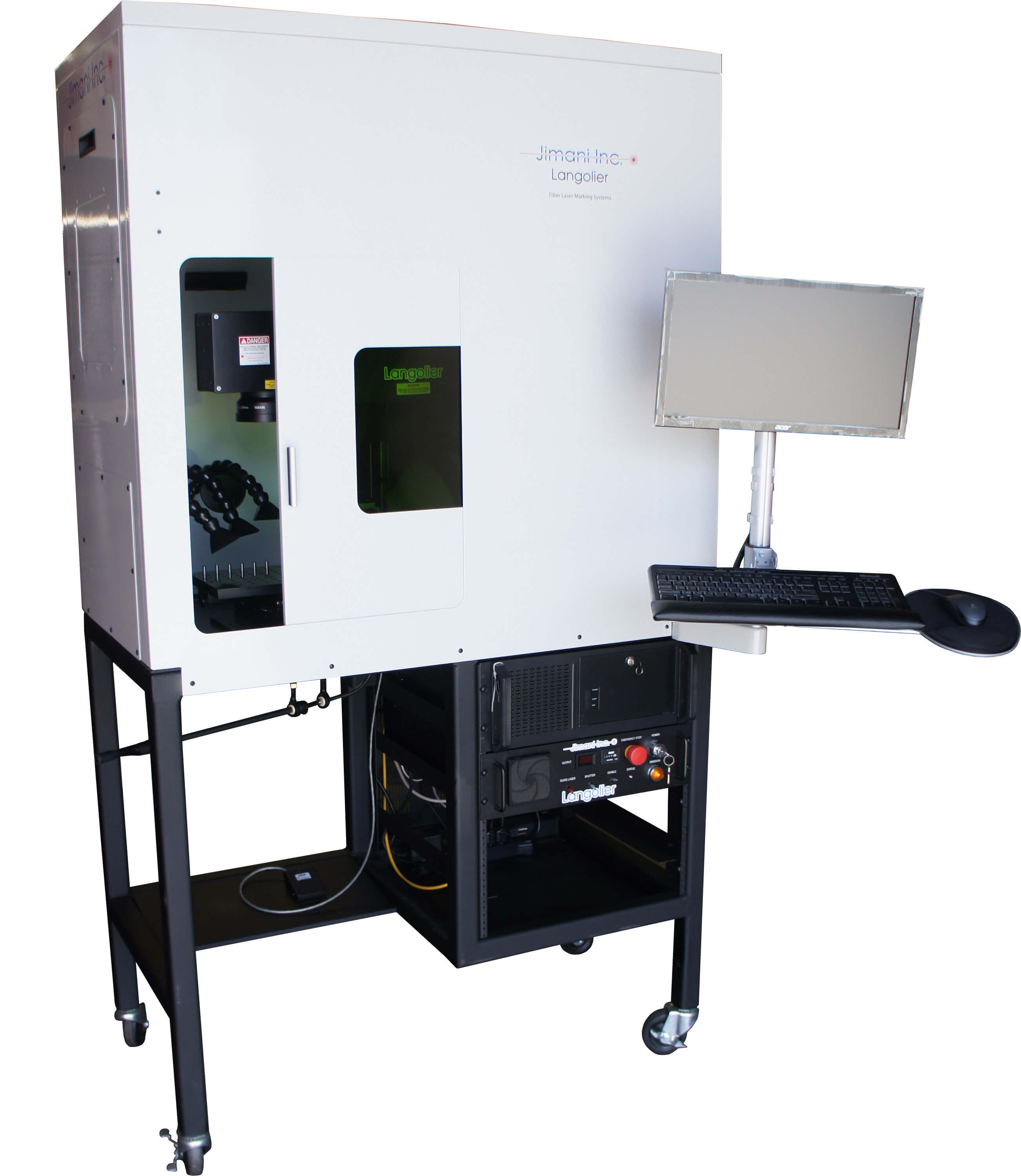 The Langolier fiber laser marking system is the state of the art in industrial direct part marking lasers. The Langolier fiber laser marker uses the latest solid state Ytterbium fiber laser systems (Infrared1060-1080nm) possessing a powerful and efficient combination of flexible fiber delivery, high peak power, excellent beam quality, and the best wall-plug efficiency available.
Designed to be a stand alone laser marking station, the Langolier Optical Head can be mounted on either a manual or motorized Z Axis workstation. The Workstation has 21″ of Z axis travel to allow a variety of lens sizes and marking fields to be selected without compromising the ability to accommodate tall parts. The laser and work area can be entirely enclosed by the Langolier Light Tight Safety Enclosure. The Light Tight Enclosure has a large, safety interlocked sliding door which opens to provide full access to the interior. All Langolier Fiber Laser Marking Systems are supplied with Prolase, a user friendly, proven, robust laser marking systems software package.
{{cta('2f75626a-834d-4ee2-bc53-c149e3a32842')}}