Esterline Gets the Best Fiber Laser Marking System Service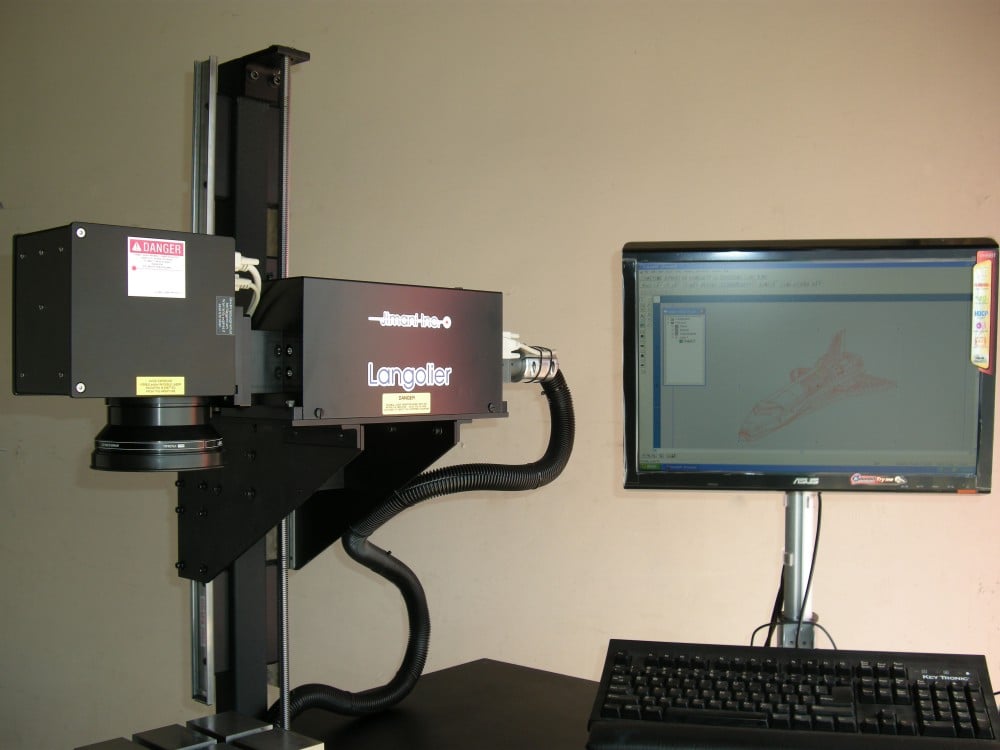 Esterline Control and Communication Systems use fiber lasers to mark numbers, text, and diagrams on coated aluminum control sticks for commercial and military aircraft. A problem arose: When a large production order arrived, the laser they have used for many years developed a problem and they needed help fast.
Luckily Easterline had purchased an open table Langolier 20 watt fiber laser marking system from Jimani many years prior. Jose Lezama is the new Senior Maintenance Technician and he has seen a lot in his business career. He said, "I have worked with lots of vendors for over 35 years but no one has ever helped me more than Jim Earman and the team at Jimani."
Esterline was fortunate in that they had a large jump in orders for their control sticks. The issue was the laser. They could not get the laser source module to work properly. Jimani interfaced with the manufacturer and made sure they got a new source with the correct specifications and installed it quickly once it arrived. Jimani also made sure the laser was marking correctly and the programming was correct.
Mr. Lezama says that Jimani "paid great attention to all of the details so that we were back up and running as soon as possible. Jim knew we were in a tough spot with production schedules and he made sure he did everything necessary until we got our problems solved. Jim even helped us with our integrated part handling robot. Jim went out of his way to talk to the interface programmer and coordinated ironing out the programming issues in the integration. I can't say enough about the service and support we received from Jim and Jimani."
Want to Know More?
You can learn more about laser marking aluminum in our free resource, Laser Marking Aluminum: Common Applications and Marking Specifications. This free download includes information about:
Common applications
Types of mark and how they are made
Laser marking equipment specifications
You Might Also Be Interested In
Laser Engraving Firearms: Black Anodized Gun Components
Deep Laser Engraving Aluminum Using 50 Watt Fiber Laser
Need Help?
Contact Jimani and see what they can do for you with a state of the art laser marking system.
{{cta('2f75626a-834d-4ee2-bc53-c149e3a32842')}}