Fume Extractor Units for Laser Marking Applications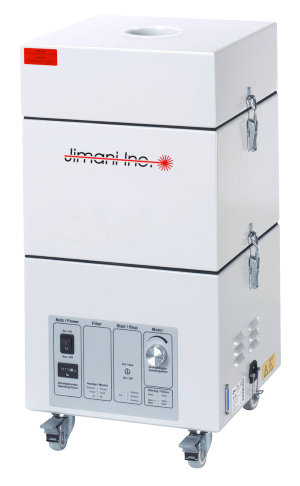 Introducing the new Jimani Langolier line of fume extractor units.
We heard you and partnered with TBH, the global leader in engineering and manufacturing fume extractors for laser marking.
All of these fume extractors are designed to easily integrate with all of the Langolier fiber and CO2 laser marking systems.
Fume extractors are critical to the safe operation of laser marking systems in most manufacturing environments. Laser marking many materials generates particles that should not be allowed to circulate in the production environment. The Langolier line of fume extractors is specifically designed to remove these particles immediately after a part is laser marked thereby protecting your operators.
The following are the four units we are rolling out now:
FP150 (

with auto-clean feature

)
LN230 (high air flow and static pressure)
LN265 (twice the filter capacity of the LN230 with over twice the airflow)
The FPV100 can be equipped with a passive cartridge pre-filter for "sticky" smoke and set up as a pre-filter in front of the LN230 or LN265.
The Jimani/TBH fume extractor line is extremely flexible due to the modular approach to building these systems. The key is understanding your situation and specifying a fume extractor that matches the needs of your laser marking application, just what we here at Jimani pride ourselves on.
Please feel free to contact us should you need any assistance with your laser marking and fume extraction needs.