Large Field Marking with Steered Beam Fiber Laser Marking Systems
In the latest installment of my Laser Marking Series for Photonics Online, Large Field Marking with Steered Beam Fiber Laser Marking Systems, I had the chance to discuss some of the challenges inherent in large field marking.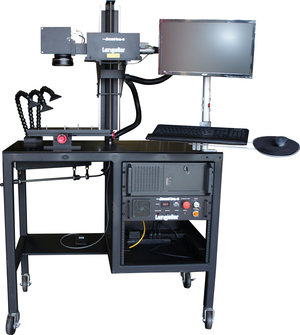 Steered beam fiber laser marking systems have difficulty created clear marks on very large marking fields. In order to achieve large marking fields with steered beam fiber laser marking systems, the information to be marked must be sectioned into "tiles" that are no larger than the marking field. This article discusses the use of galvo drive systems in large field marking and how it is done with good quality hardware and software.
You can read the full article here to learn more about large field marking!
Learn more about the entire series below.
Laser Marking Metal for Medical Applications discusses the particular goals and challenges of marking for medical applications.
Laser Marking 401: Pricing a Fiber Laser Marking System tackles the question "How much does a fiber laser marker cost?"
Laser Marking 301: Marking Techniques discusses the three main types of marking techniques (ablation, engraving, and staining) in detail including common applications and advantages of each style.
Laser Marking 201: Laser Marking Various Types of Products is a continuation of the first article we published a few months ago. The piece covers fiber laser marking basics of marking marks on various types of surfaces including flat, large flat surfaces round, and stepped parts.
Click here to read Laser Marking 101: The Basics of Steered Beam Laser Marking Systems. The piece covers a wide range of fiber laser marking basics. From a basic overview of how fiber laser marking works to a video demonstration of laser marking in action, this piece is a great starting place for anyone interested in learning more about fiber laser marking.
Contact us for all of your laser marking system and job shop needs.
{{cta('ba2ca0ed-28f5-4625-b1b6-d46a55829f7c')}}