Laser Job Shop Expertise Creates Unique Part Marking
Jimani has been in the laser job shop business for over 20 years and every once in a while someone approcahes us with a unique challenge. Often times the challenge requires a combination of art, technology, and experience to solve. Here is a good example of just such a challenge.
This item brought to us is part of a guitar. This is an older piece so no one knows what the base metal is but what we do know is that it is gold plated. The part is about 5 inches long.
The customer required us to re-create a very specific pattern laser engraved on the part. We were recreating the pattern that was originally on it. It is an old part and certainly one of a kind. This job was given to Jimani on an "I don't care what it costs" basis.
All we had to work with was a drawing of the original marking on the guitar part. Between graphics creation and the marking, Jimani totaled about 6 hours into the job.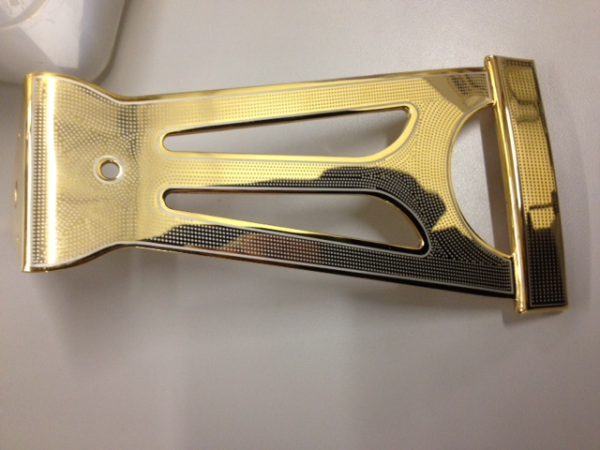 The 20 Watt Langolier Open Table design was used to laser mark these parts and is meant to laser etch both large and small parts. This open design is ideal for job shop environemnts or manufacturing setups that require marking many different types and sizes of parts.
A Jimani Langolier laser marking system is a turn key system and flexible tool for space challenged manufacturing and laser marking job shop environments. The Open Table Langolier is designed to be a compact, stand alone laser marking station flexible enough to handle one off samples and mid-range production runs.
All Langolier fiber laser marking systems are supplied with Prolase, a user friendly, proven, robust laser marking software package very easy to use for importing and manipulating graphics files for brands, logos, and schematic files.
Contact Jimani and see what they can do for you with a state of the art laser marking system.
{{cta('e4c09892-7a07-4153-8c8b-d2f2615e4033')}}