Laser Marking Alumina Ceramic
Morgan Advanced Materials is a world leader in advanced materials who design, manufacture, and supply innovative products that enable their customers' products and processes to perform more efficiently, more reliably, and for longer.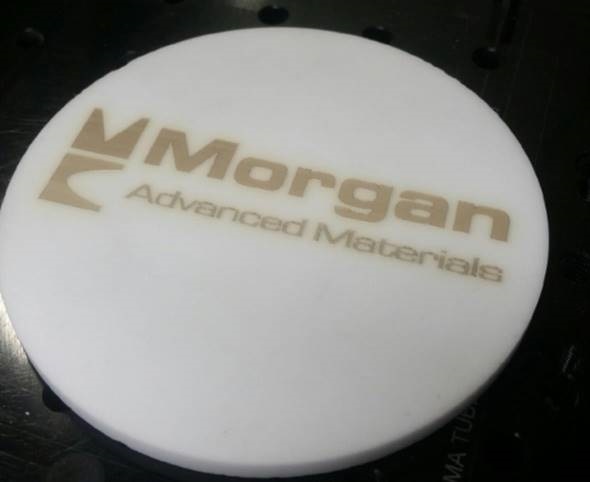 Morgan purchased a 50 Watt Jimani Langolier fiber laser marking systems to serialize their high purity alumina product for customers.
Josh Strong, the Process Engineer for Morgan Advanced Materials had this to say of working with Jimani:
The Jimani marking system turned out to be exactly what was needed for the application and has since provided flawless marking.

As with any material, the key is to establish the correct marking settings to create good color and clarity. The trouble with high purity alumina is that it takes a lot of power to create a dark mark in the material. For this reason, the 50 watt laser worked perfect. The best mark is seen while keeping the power high, speed high, multiple cross hatches and a lot of passes. Additional passes make for a darker and deeper mark. The mark produced by the laser is a nice dark brown which looks great against the white material.
The 50 Watt Langolier Laser Marking System
Check out the details of the components we use to build our Langolier laser marking systems by clicking here.
All Langolier fiber laser marking systems are supplied with Prolase, a user friendly, proven, robust laser marking software package very easy to use for importing and manipulating graphics files for brands, logos, and schematic files.
Contact Jimani and see what they can do for you with a state of the art laser marking system.
You may be interested in these related posts:
{{cta('ba2ca0ed-28f5-4625-b1b6-d46a55829f7c')}}