Laser Marking Ceramics: Morgan Advanced Materials
Morgan Advanced Materials uses a wide range of specialist, high-specification materials that have extraordinary attributes and properties. Engineered into products, they deliver enhanced performance, often under extreme conditions. Materials include ceramics, braze alloys, composites, high temperature insulation, and much more.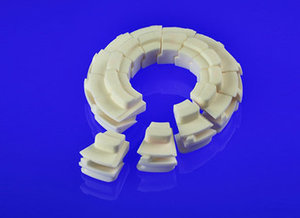 Morgan Advanced Materials uses the Jimani Langoilier fiber laser marking system for laser marking ceramic parts to provide required part identification, traceability numbers, and bar codes.
Morgan Advanced Materials has a 4 year old Langolier. Recently the computer died causing a bit of an issue in manufacturing. Apparently something in the Windows XP software crashed and the computer would not even boot up.
Jose Rodriguez, Global Server and Storage Support Engineer, Morgan Advanced Materials, called Jimani and asked where to start addressing the problem. They were running Windows XP on his old computer. He wanted to upgrade his computer to Win 7 so we told him to load a new version of Windows 7 and call back.
The machine was re-built with a new hard disk and a Windows 7 installation, Jimani loaded the new version of the PROLASE 10 software . We spent the next few hours downloading, installing and configuring the laser marking software to get the system running again. We asked Morgan Advanced Materials to run some tests, and they confirmed that the machine was operational again.
During the process, Jose asked us what we were going to charge for all of the time. We told him "Nothing. We support our equipment."
Jose Rodriguez says that "Jimani answered our questions quickly and got us back up and running very fast. They were very helpful and we were pleasantly surprised that they did not charge us for the time to fix this issue. We appreciate vendors who stand by their equipment and make sure we keep our production lines working"
The Langolier fiber laser marking system is a cost effective, highly reliable, zero maintenance, energy efficient, turnkey laser marking system integrated with industry leading components and safety features and is appropriate for a broad range of materials and applications.
Laser Engrave or Laser Etch all Metals, Many plastics and Non-Metals
Laser Mark Bar Codes, 2D Matrix
True Type Font Support
Radial Text, Serialization
EPS, PLT, DXF and Most Vector Files
Automation Friendly
{{cta('22d110bc-bd13-47d2-beca-c36ff0dffe98′)}}