Laser Marking for Plastic with Variable Pulse Laser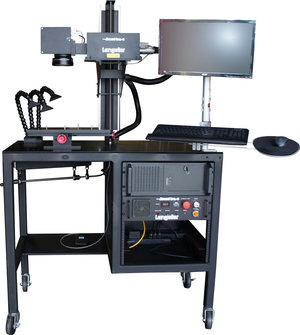 Several weeks ago a long time customer asked us to provide test marks on a white plastic material with some type of coating or plating that could be applied in several different colors. The product was made in China and our customer did not have specific information about the type of plastic or the plating. The customer wanted to use the laser to apply logos and text to the product and have the laser simply remove the coating cleanly and expose the white plastic substrate.
The standard laser in use at Jimani and used in our Langolier family of laser marking systems is an IPG YLP type laser. These lasers are fixed pulse width, Q switched fiber lasers and are available in several different power ranges. When I tried to mark the product with that type of laser, I could not remove the coating without burning or melting the white plastic substrate. I tried a variety of laser power settings, focusing lenses, output beam diameters and laser parameters, all without success. The marking just looked ugly. I informed the customer that I believed it was a poor application for the laser. A few weeks later the customer sent me photographs of that same product with beautiful laser marking on it. I was told that the marks were accomplished with a variable pulse width SPI fiber laser. I told my customer that my hat was off to both SPI and the company that made the marks. We could not achieve the same results on that particular product with our fixed pulse width fiber lasers.
In the years that Jimani has been building and using fiber laser systems, I had not, until this incident, found an application that I simply could not do with our fixed pulse width fiber lasers. This application was significant enough that I decided to learn something about variable pulse width lasers. I placed a call to SPI and explained the problem that I was trying to solve and told them of my poor results using a fixed pulse width fiber laser. SPI offered to send me an evaluation unit to test at Jimani. Their suggestion was to use a Z type variable pulse width fiber laser. They had a unit that they could ship to me immediately. My next phone call was to American Laserware. Jimani uses Prolase software from American Laserware exclusively in all Langolier laser marking systems. American Laserware had added an SPI driver into their software a few years ago but Jimani had obviously never used that interface and American Laserware was not certain whether or not any of their other software OEMs had ever successfully implemented it. American Laserware obtained a copy of the newest SPI interface and provided me with information regarding the Prolase interface to the SPI laser.
The laser l received from SPI was a 20 watt EP-Z type. I found that the clamping surfaces of the laser output collimator were dimensionally the same as the IPG output collimator and so the SPI collimator was able to mount into our Langolier Optical Housing without any modifications. The SPI laser module is approximately the same size as the IPG laser module. There was sufficient space in our Langolier Laser Controller chassis to accommodate the SPI laser. All of the necessary voltage requirements for the SPI laser were available with the existing power supply in the Langolier Controller chassis. I spent the next two days making the wiring modifications that would provide the proper I/O, power and control signal connections between the Langolier hardware, Prolase software and the SPI laser. At the end of the second day I had a functional variable pulse width laser and was ready to begin testing. It quickly became obvious why we couldn't get the same results with our fixed pulse width lasers. Good results were obtained with a pulse width and frequency that just aren't available with a fixed pulse width fiber laser. Although I was able to get good results on the white plastic material, my wife, Maria, was able to improve on those and we ended up with a spectacular looking mark on that product.
An IPG fixed pulse width laser has a laser pulse width in the 100-120 ns range. The SPI variable pulse width laser allows the user to vary the output pulse width from about 3 ns up to 500 ns. The pulse frequency can also be varied from about 1 KHz up to 1 MHz. The vast majority of applications that I have been involved in can be accomplished nicely with a fixed pulse width fiber laser. However, there exist applications, like the afore mentioned coated plastic material, that require more control of the laser output than is offered by a fixed pulse width laser. My customer sent Jimani about 20 different product types with a wide range of materials and coatings for testing. Two of those products required laser outputs that were not available with a fixed pulse width laser. All of their products require either a coating removal or color change in the coating in order to make the marking attractive on the item.
Since I made the commitment to understand more about variable pulse width lasers, I took it a step further and modified the Langolier Laser Control Chassis so that it could accept an SPI laser. We made an adapter plate so that by using that plate, we can just mount the SPI laser module into our standard chassis. We modified our wiring so that by just adding a couple of plug in jumper cables, we can control and communicate with either an IPG YPL or SPI Z type laser. We are also investigating other applications that the variable pulse laser is well suited for. I'll comment more about that as I learn more. The price of the variable pulse width laser is considerably higher than an IPG fixed pulse width laser, especially since IPG lowered the price of their YLP lasers a few months ago. IGP also has a variable pulse width laser but I am unable to test or use it because American Laserware does not currently have an interface for it.