Laser Marking Odd Shaped or Large Parts
Laser marking odd shaped or large parts can present quite a challenge. Many laser systems are enclosed for CDRH Certification reasons but enclosures immediately impose limits on the size of part that can fit inside of the enclosures. Enclosures also place limits on the amount of Z axis ajustment necessary to focus the laser beam on large and/or tall parts.
Jimani solves this problem by offering one model of it's Langolier fiber laser system in an open table configuration. While this system is not Class I rated, it is extremely flexible and allows operators to mark just about anything.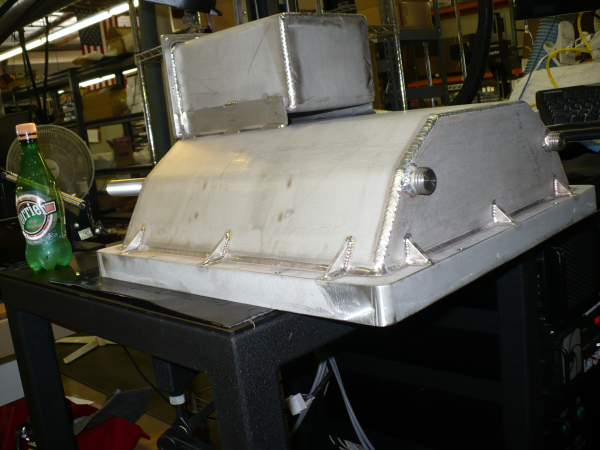 The photo above give you an example of the a large part placed on an open table Langolier for marking. This is a welded aluminum housing that we marked for one of our laser marking job shop customers.
The Langolier Open Table design is meant to laser mark/engrave both large and small parts. This open design is ideal for manufacturers or after market shops that customize products – This laser marking system allows you to laser mark just about anything.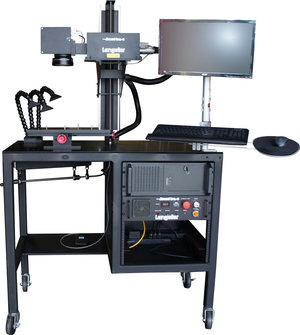 A Jimani Langolier laser marking system is a turn key system and flexible tool for space challenged manufacturing and laser marking job shop environments. The Open Table Langolier is designed to be a compact, stand alone laser marking station, flexible enough to handle one off samples as well as mid-range production runs.
All Langolier fiber laser marking systems are supplied with Prolase, a user friendly, proven, robust laser marking software package very easy to use for importing and manipulating graphics files for brands, logos, and schematic files.
Contact Jimani and see what they can do for you with a state of the art laser marking system.
{{cta('22d110bc-bd13-47d2-beca-c36ff0dffe98′)}}