Low Cost Fiber Laser – The Jimani Hybrid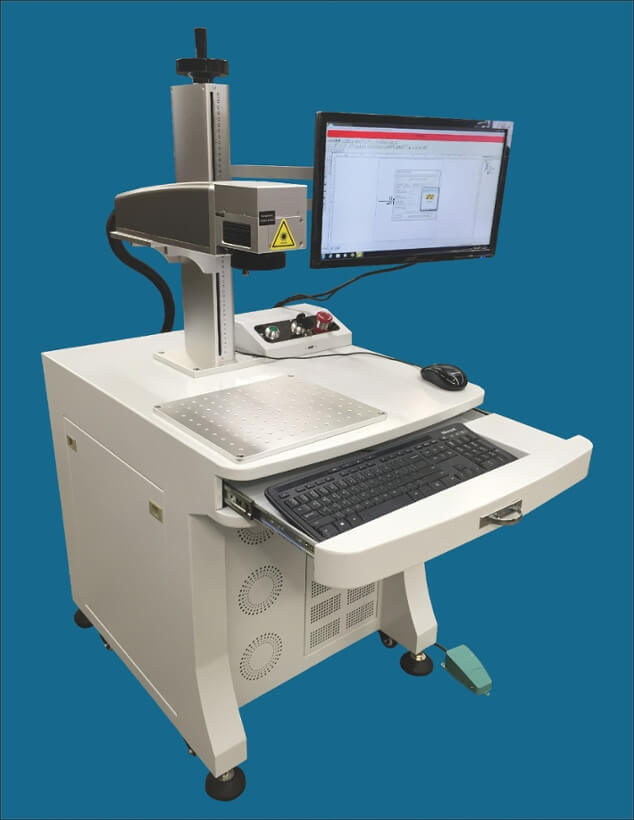 As you know if you follow this blog we decided to offer a low cost fiber laser marking system to our customers to address the need for a low cost system that meets minimum, though not the highest, marking standards. A laser that is more than good enough at a reasonable cost.
The first two shipments of the Low Cost Hybrid Fiber Laser Marking System sold pretty quickly. I'm bringing them into Jimani in batches of 3 but I may increase the batch size. They seem to be finding homes about as quickly as I bring them in. The system works as advertised and the Chinese manufacturer has been very responsive to any changes I've asked for. My requests have been minor, such as modifications on wiring routing for a cleaner final assembly and changing the Z axis height indicator to read in inches as well as millimeters.
All of the systems have worked perfectly well out of the box and the Jimani modifications are now down to a standard procedure. Those modifications include the addition of a Win 7 Pro computer, Leopardmark software, the RTC board and associated control cables. The packaging from China can't be reused and so we had new packaging designed so that finished systems can be repackaged for shipping without any dis-assembly.
I ordered one system with a simple workstation enclosure. The enclosure is easy to install but the interior work space is limited. This enclosure is inexpensive but, because DHL airfreight charges are based on volume, as well as weight, the additional shipping cost is as much as the actual enclosure. My personal preference is laser safety glasses rather than enclosures. I may consider including a set of laser safety glasses with each Hybrid system.
I had an opportunity to install Prolase 10 on a Hybrid marker. I wanted to use a marking technique that required one of the new features in Prolase 10. That feature wasn't available in Leopardmark. It was as simple as loading Prolase 10 and then inserting a Prolase 10 security dongle into one of the USB ports on the computer. Although I was sure that Prolase 10 would work before doing this testing, I can now state without reservations that the Hybrid system can be upgraded to any version of Prolase.
I have another batch of hybrid systems enroute to Jimani from China. I expect them to arrive at Jimani during Thanksgiving week and finished and tested by the beginning of the following week. More information to follow.
Previous posts about the hybrid laser:
Introduction of the Hybrid Laser
Story of the Success of one of the first users of the hybrid marking laser
{{cta('457d9883-9158-4536-a194-a90d0b707e4a')}}